I was so unwell yesterday that I spent much of the day in bed. I'm not good at being ill and doing nothing, but I managed it yesterday, I just wish the DVD player in the bedroom worked because I would have watched Sex and the City from my pit.
Thankfully, I felt somewhat better today, and it was my day off work too. Result. I didn't do much though, other than a trip into town to look for some silver eyeshadow, a mission I most certainly failed on, I couldn't find any I liked.
Boots - Dr. Martens, Dress - Red or Dead, Bag - Jones the Bootmaker,
Faux fur jacket - Red Herring (via charity shop), scarf - gift, Hat - Miss Selfridge
I popped into our main historic church in town too, Holy Trinity. When you spend so much of your time off admiring the beautiful architecture of other towns and cities, it's all too easy to overlook the beautiful things that surround you on your own doorstep.
The beautiful stained glass window of Trinity Church
Apparently Coventry was a most beautiful city before the Blitz destroyed it all, with beautiful medieval and Georgian buildings, little hints of its grandeur remain.
Now the front of the Natwest bank, but the beautiful side vista is interrupted by dodgy 1960s buildings
from www.thecoventrywehavelost.co.uk

The German bombers may have destroyed all that, but arguably 1960s planners did more damage... but that's a whole other blog post. Perhaps I should just start taking a little bit more time to appreciate the scarce beauty that is around.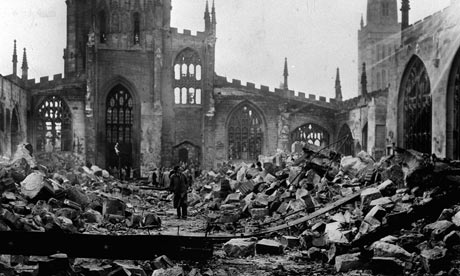 Coventry Cathdral after the blitz
Picture from here